We're striving to partner with the best global and local brands in order to bring fun, unique and convenient products and services to Bay Area commuters. One of our awesome, rotating partners is Doblet, an on-the-go battery pack available for loan at various locations for when you find yourself out-and-about and low on phone charge. We chatted with them to get all the details behind the company and its exclusive blinq offerings.
blinq: What's Doblet's mission?
Doblet: We're fixing the battery problem. Doblet makes sure you can keep your phone charged, anytime and anywhere.
b: How does Doblet work?
D: Doblet is a portable battery pack that you can pick up at a blinq pod (or our other locations) to charge your phone. It works on a loan system, so you can pick one up when you need it, and then drop it back off at the same location when you're done. The first charge with Doblet is free, and then you can choose a pay-as-you-go option ($3 per charge) or a monthly subscription, which is $3 per month and gives you access to Doblet anywhere.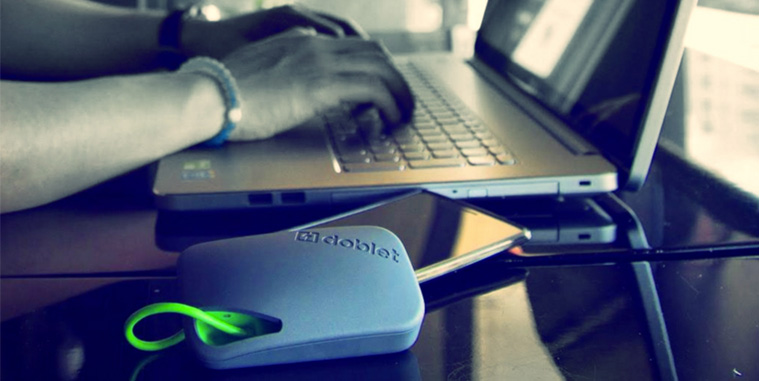 b: What makes Doblet different?
D: Doblet's built the first Apple-approved smart portable battery pack, as well as a smart Android battery pack. We're putting them in over a thousand locations, all around the Bay Area, so you can keep your phone charged anywhere.

Since it's portable, you can keep using your phone as it charges. You can use the Doblet app to figure out where to find a Doblet when your battery runs low.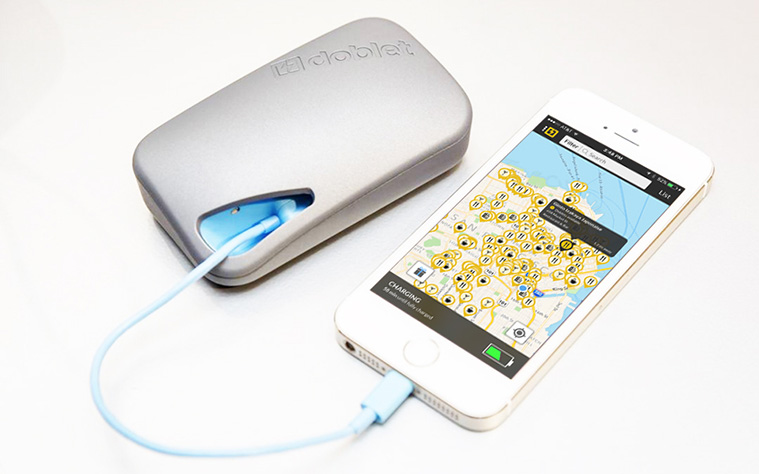 b: What is something cool about Doblet that most people don't know?
D: We're in some awesome bars, restaurants, and coffee shops around the Bay Area, but that's only the start. You can now find us in all your local Fitness SF locations, piloting with Crunch and World Gym, live in many coworking and startup spaces all around SF, at the Innovation Hangar at the Palace of Fine Arts, and even at the incredible Computer History Museum in Mountain View.

For those who live in East Bay, look for our arrival soon in an Alameda County Library near you!
b: What will you be offering at blinq pods?
D: We'll be providing Doblets for on-demand rental, anytime from 7am to 7pm. Doblets can be returned anytime within three days, so feel free to pick one up for your commute home, and drop it back off in the morning--or pick one up as you head out for a night with friends.

We'll be on hand at the blinq pods to answer any questions you might have about Doblet, and share more about the locations in our expanding mobile power network. If you own or manage a business where you think Doblet would be a great fit, just let us know!
b: Why did you decide to start working with blinq?
D: blinq provides an awesome opportunity to showcase the newest products, services and brands available in the Bay Area--right where you're most likely to see them. It seemed like the perfect fit for Doblet, as we build out our portable charging network. After all, battery life's something we all need on our commute.

Working with blinq has been great so far--it's been rewarding to see everyone come together to improve the experience of our daily commute.